24-09-2017 South China Morning Post talked with Horst Geicke about HKs future
The article: "Pump more money into Hong Kong fintech start-ups"
Tackle city's sky-high property prices and international school fees to keep foreign investors coming, he adds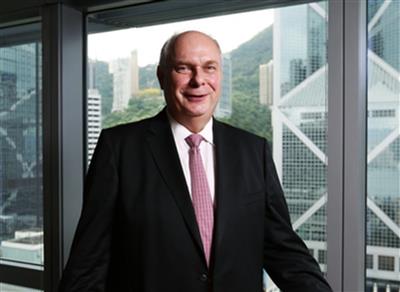 Hong Kong needs to pump more government funding into local fintech start-ups to help find the next big thing, the city's European Chamber of Commerce chairman said, as he urged tackling sky-high property prices and international school fees to keep foreign investors coming.
Horst Geicke also told the Post he thought the city was not a gateway to the mainland, as local officials often claim, noting: "China has a lot of incentives and schemes for companies to set up directly there."
"Start-ups have an easier time in Singapore, for example, because it is much easier to get financing from their government."
Geicke claimed European investors were interested in investing in Hong Kong start-ups because they were "all looking for the next Baidu or Tencent" – two mainland internet giants.
"It is not contested that fintech is a new big area you have to be in if you want to remain competitive and have your financial industry grow," he added. "China is extremely active in this and so are other Asian cities."
In its latest position paper on fintech, the chamber said Germany offered various funding models. In one programme, Berlin-based fintech start-ups could apply for €1.4 million euros (HK$13 million) of funding per project. The sum comprises a non-repayable grant of up to €400,000 (HK$3.73 million) and a low-interest loan of up to €1 million.
Earlier this month, the Hong Kong government launched a HK$2 billion fund to encourage investment in local innovation and technology start-ups. Under the new Innovation and Technology Venture Fund, authorities and venture capital funds are to enter an agreement and invest in start-ups at a ratio of about 1 to 2.
Meanwhile, Geicke pointed to the high international school fees that foreigners must pay after they move to Hong Kong with their children as a "big problem". Some companies with smaller budgets found the situation especially difficult if they had to pay the fees as part of their staff compensation packages.
"They come from schools in Europe where school fees are actually zero," he said.
The chairman added the city's property prices had gone "out of control" for both local residents and foreigners.
"Rent is way too big a part of your whole budget. There are rents for your employees and rents for your office." But because Hong Kong is a free economy, he said and the government could not simply freeze property price levels.
Geicke hoped local officials could move faster to convert industrial sites into locations suitable for both industrial buildings and offices, or just offices. Authorities would then need to make sure people could easily travel to the locations by public transport, he added.
Asked if he agreed that foreign investors could use Hong Kong as a gateway to China, he flatly disagreed: "Hong Kong is not the gateway to China. We are just the nearest and most international city. Make no mistake. China has a lot of international cities also."
"If you believe that people need to go through Hong Kong to get to China, that's wrong. There are many examples where companies do their first set-ups right away in China, where they have the big domestic economy."
But Wolfgang Niedermark, chief representative of the Association of German Chambers of Industry and Commerce, claimed many European investors were still running both their mainland and Asian businesses from Hong Kong.
"We have small and medium-sized companies who do their distribution to the Philippines, Vietnam and Australia via Hong Kong," Niedermark said. "It's still very attractive for European companies to use Hong Kong as the hub for their Asia-Pacific business, not only China."
The European Union was Hong Kong's third-largest supplier of goods last year after the mainland and Taiwan, with 6.7 per cent of the city's imports sourced from the EU, amounting to more than €31 billion (HK$289 billion).
"Pump more money into Hong Kong fintech start-ups"